What's More Important, Air-Sealing or Insulation?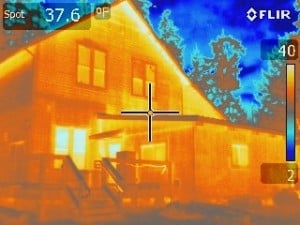 A recent analysis of San Juan County homes and businesses showed that most can substantially reduce their energy bills and wasted energy by improving their energy efficiency. Air sealing and insulation are two of the best ways to make your home or business more comfortable, durable, and energy efficient.
To our question – What's more important, air sealing or insulation? ­– Green Building Advisor (GBA) senior editor Martin Holladay says the answer is clear, "Air sealing always comes first."
Air Leaks Waste Energy and Rot Houses
GBA estimates a whopping one third of the energy you pay for probably leaks through holes in your house. Air leaks can also cause moisture and indoor air quality problems. Stopping unwanted airflow is an important job of a building enclosure. Air leaks through walls, roofs and floors can have the biggest effect on the durability of a house. Uncontrolled air flow through the shell not only carries moisture into framing cavities, causing mold and rot, it can account for a huge portion of a home's energy use and cause indoor air quality problems as well.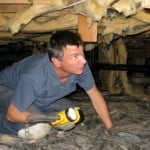 Doug Poole of Sage Building on Lopez Island agrees. He explains, "Air enters and leaves the home through stack effect and wind pressure.  Stack effect turns your house into a chimney and is constantly drawing air from the low points of the home and sending it out through the high points. This is called infiltration and exfiltration."
Poole lists the benefits of air sealing a home as:
Savings on energy costs
Improved comfort through reducing drafty areas of the home
Better indoor air quality by reducing the air entering the home through the crawlspace
Lower threat of mold growth in the attic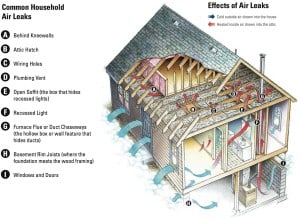 Plugging the Leak
As winter approaches we are more likely to notice our home's air leaks or "drafts," especially when the winter winds are raging. Often these drafts are around windows and doors and we think these leaks are our major source of wasted energy. Experts agree however, that in most homes, the most significant air leaks are hidden in the attic and basement. These are the leaks that significantly raise your energy bill and make your house uncomfortable. As Poole said, in cold weather, warm air rises in your house, just like it does in a chimney. This air, which you have paid to heat, is wasted as it rises up into the attic and sucks cold air in all around your home—around windows, doors, and through holes into the basement.
Hand in hand with air sealing comes proper ventilation.  Poole says, "This can be as simple as a bath fan on a timer, or as complicated as a Heat Recovery Ventilator for super tight or high performing homes.  The tightness of the home can be tested with a Blower Door and then the appropriate home ventilation system should be installed."
A popular Home Performance slogan is:  "Seal tight, ventilate right!"  Poole's own well sealed home has a bath fan that is always on at a low speed so its constantly bringing in fresh air from outside and getting rid of stale, moisture-laden air.  Opening windows high and low in the house can work too, but that wastes a lot of energy and it puts Mother Nature in charge of how much fresh air we get.
Caulking and weather-stripping are two simple and effective air-sealing techniques that offer quick returns on investment, often one year or less. Caulk is generally used for cracks and openings between stationary house components such as around door and window frames, and weather-stripping is used to seal components that move, such as doors and operable windows.  For some good information and tips on how to air seal you home or business, see Energy Star's excellent A Do-It-Yourself Guide To Sealing And Insulating With Energy Star.  It's loaded with good how-to information and illustrations.
Pressurizing the House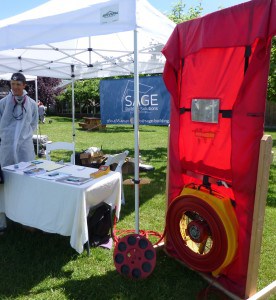 Poole agrees that door seals can sometimes be a big air leak in a home, and that properly sealing dampers on dryer vents, bath fans and kitchen hoods is good to do as well. That said, Poole finds the biggest culprits tend to be in the dark places. As a Home Performance contractor, his focus is on the high and low leaks in the house.
"Donning protective gear and heading into the crawlspace to seal gaps around pipes and wires, under tubs, duct penetrations, etc. will improve air quality, save energy and reduce drafts."

"The attic is a little more technical.  We typically use the Blower Door to pressurize the house and help us find the air leaks in an attic.  These include the plumbing and electrical penetrations, as well as interior wall tops and drop soffits.  If you have a vaulted ceiling with no attic access, then looking for dusty cobwebs in cracks around beam ends, at blocking, etc… can yield results.  Air sealing high in the home saves energy and takes the stress off roof venting, reducing concerns around creating mold conditions on the underside of the roof-deck."
To check the energy efficiency of your house, the Home Energy Snapshot Assessment from OPALCO is a great place to start.  At $25 it is an excellent value, and includes 2-3 hours of consultation with a Building Performance Institute (BPI) certified contractor (Doug Poole or David Meiland of Bailer Hill Construction on San Juan Island), free energy efficient light bulbs and low-flow shower heads. To learn more about the Home Energy Snapshot, energy saving, rebates, or to schedule an Energy Snapshot appointment check out the links below.
Learn More