Saving Energy with Compact Space Heaters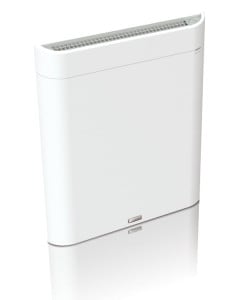 The heating season is here and we want to stay warm! Space heaters can be an excellent supplemental heat source for keeping warm without running up your electric bill. The idea is to heat the space you are in, rather than the whole house, and choose a heater best designed for that space.
Electric space heaters have been deemed safest for indoor heating, and can be broken down into two types: convection and radiant heaters.
Convection heaters contain a sealed heat transfer liquid, such as oil, that is warmed by an electric heating element. Often they have fans that help circulate the warm air in a room. They are very energy efficient for heating a larger room for a short period of time.
Radiant heaters reflect heat using an infrared technology, and are most effective in smaller spaces for a short period. The best heaters on the market use a combination of convection and radiant heat. These space heaters are referred to as panel heaters. They blend approximately 80% of the convection technology with 20% of radiant. They are highly energy efficient and warm larger spaces quickly and quietly.
When selecting a model, pay extra attention to the wattage.  Energy saving models use 400-600 watts (3-5 cents/hour), depending on the size.  Some commonly used space heaters can use up to 1500 watts (or 13 cents/hour) to operate!
We have received excellent member feedback for the American built Envi wall mounted heater. These are commonly installed in bathrooms and bedrooms where it keeps the area a consistent, comfortable temperature.  Here are some benefits Envi heaters offer:
Safe – the Envi has a cool-to-the-touch exterior that is barely above room temperature.  The built-in thermostat allows the unit to turn off when a comfort level is reached.  The Envi heater also has an enhanced thermal cut-off that quickly shuts down the heater if the air vents are blocked. It is made from crack-resistant materials that make hairline cracking a thing of the past.
Healthy & Quiet – Using a pure convection design, the Envi operates without moving parts and distributes air without the use of a fan. It is hypoallergenic and will not circulate dust or allergens, or dry out the air. It is completely silent and also features an auto dimming power light.
Simple & Stylish – The Envi installs on your wall in minutes using a simple 3-step process. No hassle – just warm air delivered by a slim, sleek and stylish heater – only 2 inches thin.  It can be ordered online, with a few options, including hard-wired, or plug-in to a wall outlet.  It can also be paired with a programmable external thermostat.  This is a great option for a bathroom, as you can set it to warm the bathroom before you get up in the morning, and then ease back during the day, while you're away.
Economical – Envi High-Efficiency Whole Room Electric Panel Heaters are $139.95.
To learn more about the Envi heaters, visit eheat.com.  For other efficient wall-mounted heating options, you may also want to check out convectair.com and econo-heat.com.