OPALCO's Electric Vehicle Journey: The Mt. Constitution Test, Regenerative Brakes and CFL Charlie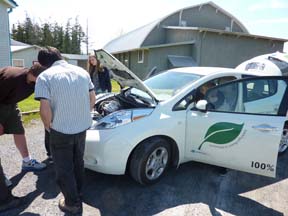 I was really happy to finally get to take the LEAF out last week for some testing.  First, on Tuesday,
I took the car to the Orcas High School Physics class. They are building a solar powered boat and
are studying and choosing a battery pack. See their project online: https://sites.google.com/a/orcas.k12.wa.us/solar-boat-umiak-energy/
Friday we took the car to the top of Mt. Constitution. I was really interested in the variation of mileage given the "mountain" we were driving up and the breaking and coasting down.
The LEAF has regenerative brakes that supply the battery when breaking and coasting. We started from the OPALCO office on Mt. Baker Rd. with a full charge and 101 miles predicted. Keep in mind the 101 miles is for absolutely perfect conditions and flat driving, including not using the radio or comfort system (heat or a/c). We left the radio and heat off. By the time we got to the top of Flaherty's Hill we had 80 miles left but we had only gone 4.1 miles! Yikes! The LEAF had no trouble going up the hill as we traveled 41mph. By the time we got to the turn off to Mt. Constitution we had 82 miles on the car. We added a few coasting and breaking through the park.  The car had no issues going up the road and handled really well. At the top we had 39 miles left but had gone only 10.1 miles since Mt. Baker Rd.  Wow!
---
We are doing a promotion for an Energy Efficiency/Conservation contest using our partner, Touchstone Energy's CFL Charlie. We were helping him make an appearance on Mt. Constitution.
Visit our website June 1st to enter the contest to win an Apple iPAD 2.
Back to the car – we left the parking lot on the top with 39 miles left. We got to the bottom with 82 miles left. Ta Da!  43 miles used on the way up and 43 miles gained on the way down. Pretty cool!!