May I have the Envelope, please?
Why you should consider weatherizing your home now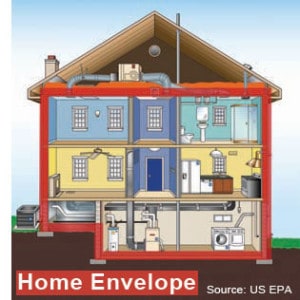 A building envelope is what separates conditioned and unconditioned space.  It performs the important job of keeping heat, cold, and moisture from transferring directly through your walls, foundation, and roof.  Like a cozy coat, hat, and socks for your home, appropriate levels of insulation and properly sealed air leaks will reduce your heating requirements and improve overall comfort level.  Paired with an efficient heating and cooling system like a ductless heat pump, you'll cut down significantly on energy waste.
But wait…it's summertime. Why think about heating, coats and hats when it's warm outside?
Here are 3 good reasons to consider weatherization home improvements now:
1) Residential rebates for weatherization are going down October 1, 2015
OPALCO offers rebates funded by BPA's Energy Efficiency Incentive program.  BPA constantly evaluates the region's energy savings potential and adjusts incentives accordingly.  Effective October 1, 2015, the current rebate levels for insulation, windows, air sealing, and duct sealing will be cut nearly in half.  If you're already thinking about making these upgrades, act now to benefit from the higher rebate levels.
2) Gains in improved comfort also apply to warm temperatures
Have you ever spent an extended amount of time in an unconditioned space like a garage, shed, or barn?  In the summer, it was probably warm and stuffy in there.  This is true for your home, too.  Improving the building envelope of your home helps keep you cooler and improves ventilation and moisture levels year round – even when temperatures are high.
3) Supply and demand
Many people wait to take action when their house feels drafty, their energy consumption is higher, and the temperatures are already dropping.  If you get ahead of the winter rush for weatherization work, you can prevent energy waste before it happens.  You may also have better access to lower costs of materials and higher availability of qualified contractors.
To create a plan for reducing your home's energy waste or for more information about OPALCO rebates, visit our website or contact our Energy Savings staff (Lindsay) at 376-3500.
Amy Saxe, OPALCO Manager of Member Services & Energy Savings