Holiday Energy Saving Tips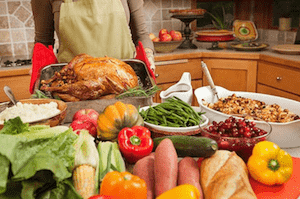 The holidays bring friends and families together, which often finds us spending more time in the kitchen. If you're like us, you're interested in good tips on how to put together a cozy winter meal while keeping energy bills reasonable. Energy costs in the kitchen can total up to 15% of total home energy use, so it's worth a bit of effort to learn how to be more efficient.
Here are some tips to help keep your energy costs down:
Keep the oven door closed. It's tempting to open the door to check on the progress of a dish. But because the hot air that is contained in the oven is an important part of the appliance's cooking process, frequent peeking is self-defeating. Every time the oven door is opened, the temperature inside is reduced by as much as 25 degrees, forcing the oven to work even harder (and use more energy) to get back to the proper cooking temperature, and increasing the cooking time. So try to use the oven window instead.
Clean your burners. If you've got an electric range, one great way to keep your stovetop cooking efficiently is to keep the reflectors under your burners grime-free. They can be a pain to clean, but regular maintenance can go a long way. You can also invest in some better reflectors that can decrease your stovetop cooking times, which will save you energy (and money!) over time.
Don't neglect your crock-pot… or your microwave, toaster oven, or warming plate. Putting your small kitchen appliances to work instead of the oven or stovetop can mean significant energy savings. The average toaster oven can use up to half the energy of the average electric stove over the same cooking time.  And microwave ovens draw less than half the power of your regular oven, and they cook for a much shorter period of time
Make contact. We've all got one in our kitchen—those warped and rounded pans that wobble when you set them on the stovetop. If you have a gas range, you can cook with warped pans to your heart's content; those of us with electric ranges aren't so lucky. Electric stovetops can only transmit heat to pans they are in direct contact with; the less contact your pan has with the burner, the more energy the stovetop will have to expend to heat the pan (and its contents).
Cool it. Allow hot foods and liquids to cool before putting them in the refrigerator. Uncovered, hot food and liquids give off vapors that make the refrigerator work harder. Use a lid or plastic wrap to cover the food and place in the refrigerator after cooling.
Use your dishwasher. It saves energy and water. Only hand-wash things that aren't dishwasher-safe, and wait until you've got a full load before starting the dishwasher. Be sure to stop the appliance before the heated dry cycle – just open the door and let your dishes air-dry.
Turn down the heat. Spending all day in the kitchen? If you've got the oven running and soup on the stove, you can probably turn the heat down a bit. The heat from your oven, not to mention dinner guests, should keep your home warmer than usual, and your furnace won't have to work as hard.
One more tip… Be festive & frugal with your holiday lights. Did you know that those large, traditional colored bulbs you unpack year after year could be costing you a bundle? Consider buying new miniature lights or LED strings, which use 7 to 10 times less energy and last much longer than the larger bulbs.
To avoid accidentally leaving your lights on and running up your electric bill, think about using an automatic timer, both indoors and out. Timers remove the burden of turning the lights on and off…or forgetting to do it! Just make sure that the timer you use is rated to handle the total wattage of your lights.
Enjoy a safe, efficient and happy holiday!