Weatherization of your residence can significantly reduce the amount of energy needed to heat and cool your home.
The red areas in this illustration show just a few of the places where heat can leak from a residence without adequate insulation and weatherization.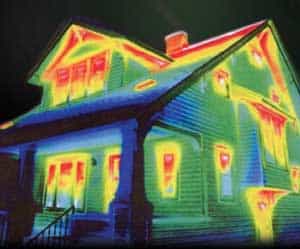 Insulation Upgrades
Having trouble keeping your home warm in the winter? Prior to 1980, Washington state building code didn't require adequate levels of insulation compared to today's standards, so most likely the cause is in your walls, floors and ceilings, and attic.
Adding 1,500 square feet of R-49 insulation to an uninsulated attic could result in an energy savings as high as 1,200 kWh (or $115.08) a year.
For more information on insulation, visit these websites:
Duct Sealing
According to ENERGY STAR, sealing and insulating ducts can improve the efficiency of a house's heating and cooling system by 20% or more. Leaving ducts unsealed and uninsulated lets conditioned air leak into unconditioned spaces, wastes energy and creates the potential for hot and cold spots in the home.
Window/Glass Doors Replacement
While window replacement isn't the most cost-effective weatherization measure in the toolbox, new energy efficient windows can reduce the amount of energy needed to heat and cool your home and increase your comfort and home value. Before replacing your windows, it's prudent to make sure your home is well insulated and sealed.
Check out the Efficient Windows Collaborative, which is a great resource for figuring out what kind of windows make the most sense in our climate zone. For example, a low U-factor is important, but a higher solar heat gain coefficient (SHGC) makes sense to allow for solar heat gain in the winter months. Many companies market windows that have both low U-factor and low SHGC to cover all the climate zones with one Energy Star qualified product.
Air Sealing
Air sealing is usually considered a do-it-yourself (DIY) project, and when it's done by a professional, the results are measurable. Proper air sealing is important, because indoor air quality becomes a concern when you start to restrict the infiltration of outside air into your home. Also, gas-fueled appliances and fireplaces have the potential to backdraft if their normal air supply is cut off.
For more information, contact your OPALCO Energy Savings specialist.