Knowledge is Power!
OPALCO is your go-to source for tools and information on energy efficiency, conservation, reducing carbon impact, and staying up to date on emerging technology and trends.
Please browse the following compiled resources and feel free to contact us for more information.
Free CFL Recycling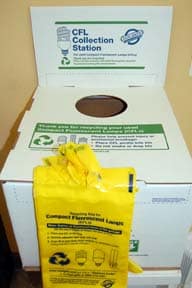 OPALCO participates in the LightRecycle Washington program.  Recycle your compact fluorescent light bulbs (CFLs) free of charge at the recycling stations in our Eastsound, Friday Harbor, and Lopez offices.
We urge members to be mindful about safely disposing of CFLs.  The CFLs we collect are recycled in accordance with EPA standards. The best practice for disposing of spent CFLs is to place the bulbs into a sealable plastic bag and deliver to a collection site.
Get the facts about mercury and CFLs.
The following local businesses also offer free bulb recycling – accepting fluorescent light tubes (straight or curved), CFLs, and HIDs.  You can drop off up to 10 bulbs/day:
Electric Vehicles
OPALCO embraces Electric Vehicles (EVs), and utilizes a Nissan Leaf as part of the utility fleet.  Watch for new developments in 2016.
Interested in an EV demo?  Call us at 376-3571 to schedule one.
Funding Help
Islanders Bank has partnered with OPALCO on the Get Connected Loan Program. Low interest loans are available for qualified members in San Juan County for home improvement, energy efficiency and renewable energy projects. Contact your local Islanders Bank for more information and get on the path to energy efficiency!
Together We Save
OPALCO has partnered with Touchstone Energy Cooperatives to bring powerful tools and information to members through the Together We Save energy efficiency campaign.
At www.togetherwesave.com, there are energy assessment tools and a library of DIY videos on how to install simple energy efficiency measures.
The Kid's Energy Zone is designed to engage our youngest members.  Check it out and start saving!
Useful Links for Energy Efficiency and Conservation
Useful Links for Renewables
Technology Watch