Monitoring Your Energy Consumption
Every month you receive a bill from OPALCO for the electricity your home has consumed. Do you know how to read your bill? Do you know how much you pay per kilowatt hour (kWh)?
---
Track your daily energy habits online
SmartHub delivers powerful new tools for managing your energy use online – at home or on the fly. Click here to log in to (or sign up for) SmartHub.  You can also download the mobile app on your smart device.  (If you are an existing Ebill subscriber, your log in credentials have been automatically mapped to SmartHub.)

Get a Home Snapshot Energy Assessment
Have a local certified Building Performance Analyst assess your home and determine where you can save the most energy and money.  You can even request financing from Islanders Bank for small efficiency upgrades.  Get on the path to energy efficiency!
Other Do-It-Yourself Tools
Home Energy Saver – a powerful online energy audit tool. Input your residential rate (currently $0.0804/kWh) for more accurate results.
Kill A Watt Meters – Members can check out a Kill A Watt meter at their local San Juan County library and use it to calculate electrical expenses by the day, week, month or year. Simply plug a household item into the device and it will calculate the efficiency of that item by displaying the kilowatt hours used. Reference our Appliance Cost Sheet to check your findings. Here's an example we did in the office:Kill-A-Watt Convect Air Heater Example
In-Home Displays and Other Online Software – The latest trends in helping people assess their electricity usage are In-Home Displays such as The Energy Detective (TED) or learning thermostats like Nest.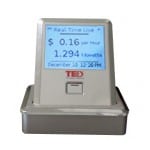 ---
If you want to discuss the results of your DIY energy assessment with an energy efficiency specialists, contact us.